Thoracic Surgery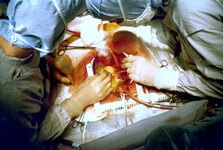 Submit Abstract
Register Now
Thoracic surgery refers to any type of surgery performed on organs and tissues in your chest cavity, such as your lungs. When medication or other treatments are not effective, your doctor may recommend surgery. Thoracic surgery can be performed using open surgery or minimally invasive surgery. Thoracic Surgery conference encompasses the operative, perioperative, and surgical critical care of patients with acquired and congenital pathologic conditions within the chest. Included are the surgical repair of congenital and acquired conditions of the heart, including the pericardium, coronary arteries, valves, great vessels and myocardium.
Video-assisted thoracoscopic surgery (VATS), Lobectomy, Cardiac tumor removal, Mediastinal tumor removal, Thrombectomy, Thymectomy are been used for the treatment of thoracic disorders. Thoracic Surgery conference focuses on latest development techniques in thoracic surgery.
Related conferences: Cardio Vascular Medicine Conference April 04-06, 2016 Philadelphia; Echocardiography Conference June 06-07, 2016 London, UK; 11th Cardiac Conference October 06-08, 2016 Vancouver, Canada; Arrhythmias Congress July 14-15, 2016 Brisbane, Australia; World Congress of Cardiology & Cardiovascular Health Mexico City, Mexico June 04-07, 2016; 8th Global Cardiologists Annual Meeting July 18-20, 2016 Berlin, Germany; 10th Interventional Cardiology Congress September 12-14, 2016 Berlin, Germany; Indian Association Of Cardiovascular And Thoracic Surgeons 62nd Annual Conference-Lucknow ,India February 18-21 2016; 19th Annual Update on Pediatric and Congenital Cardiovascular Disease ,24- 28, 2016, Orlando; European Society of Cardiology Congress 27-31 August 2016 Rome, Italy; International conference and Expo on Cardiology and Cardiac surgery April 04-06, 2016, Dubai, UAE.
Video-assisted thoracoscopic surgery (VATS)
Cardiac tumor removal
Mediastinal tumor removal
Thrombectomy
Thymectomy
Related Conference of
Thoracic Surgery
Thoracic Surgery
Conference Speakers
Recommended
Sessions
Related
Journals
Are you
interested

in